R 2,400.00
RO 5 stage – Include all filters

With luxury faucet and flush valve
Without pump
Description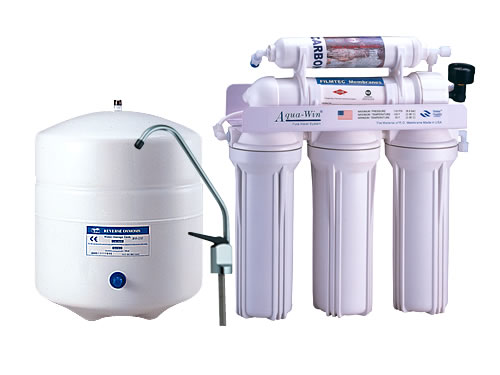 Reverse osmosis (RO) is a water purification technology that uses a semipermeable membrane to remove larger particles from water by pushing the water under pressure through a semi-permeable membrane. The result is that the solute is retained on the pressurized side of the membrane and the pure solvent is allowed to pass to the other side. To be "selective", this membrane should not allow large molecules or ions through the pores (holes) but should allow smaller components of the solution (such as the solvent) to pass freely. In the normal osmosis process, the solvent naturally moves from an area of low solute concentration (high water potential), through a membrane, to an area of high solute concentration (low water potential). The movement of a pure solvent is driven to reduce the free energy of the system by equalizing solute concentrations on each side of a membrane, generating osmotic pressure. Applying an external pressure to reverse the natural flow of pure solvent, thus, is reverse osmosis.
Reverse osmosis is most commonly known for its use in drinking water purification from seawater, removing the salt and other effluent materials from the water molecules, including bacteria, and is used in both industrial processes and the production of potable water. Reverse Osmosis works by using a high-pressure pump to increase the pressure on the salt side of the RO and force the water across the semi-permeable RO membrane, leaving almost all (around 95% to 99%) of dissolved salts behind in the reject stream. The amount of pressure required depends on the salt concentration of the feed water. The more concentrated the feed water, the more pressure is required to overcome the osmotic pressure.
Reverse Osmosis is an effective and proven technology to produce water that is suitable for many industrial applications that require demineralized or deionized water. Further post-treatment after the RO system such as mixed bed deionization can increase the quality of the RO permeate and make it suitable for the most demanding applications. Proper pretreatment and monitoring of an RO system are crucial to preventing costly repairs and unscheduled maintenance. With the correct system design, maintenance program, and experienced service support, your RO system should provide many years of high purity water.
Please note that the price listed below is without the pump.